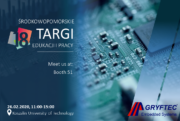 Education and Job Fair Koszalin
04/02/2020
Visit our booth at the next edition of Education and Job Fair, organized by the Koszalin University of Technology. It's the third time we participate in this event, and we always enjoy being there. The previous edition gathered a lot of people interested in our offer. During this year's event, we'll talk about the projects we work on and the technologies and tools we use. What is more, it's the best opportunity to meet us in person.
Our Koszalin office is getting bigger, so join us and check out current job offers as well as the internship program.
The fair will take place on the 26th of February, 11:00-15:00 at the Koszalin University of Technology.