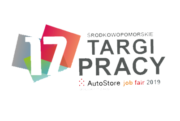 Mid-Pomeranian Job Fair 2019
15/03/2019
We'd like to invite you to take part at the Mid-Pomeranian Job Fair 2019.
The job fair is organized by carrier office of the Koszalin University of Technology and attract a growing group of interested people every year. This is the best way to have a direct contact between employers and people looking for a job.
The event will take place on 21.03.2019, 11:00-15:00 in the Sports and Entertainment Hall at Śniadeckich 4 street in Koszalin. Visit us at our stand and talk with our company representatives about the possibilities of cooperation.