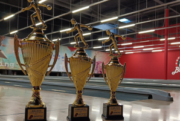 GRYFTEC turned 19
19/09/2023
Another year, another great reason to celebrate.
GRYFTEC Embedded Systems turned 19, and the best way to commemorate this moment is to spend this time with people who truly make this company special.
Nothing brings a group together like a sports competition. A bowling tournament showed the competitive spirit and the hidden bowling talents. Eight teams from various departments competed in a friendly but fierce atmosphere. It was a fun, team-building activity that made lasting memories that extend beyond the workplace.
Huge congrats to the winning team!
Here's to many more years of achievements, driven by the individuals who make up our company, and countless moments of fun and success together!
Thank you, GRYFTEC team, for another great year together.