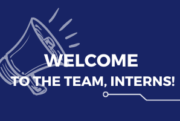 Welcome to the team, interns!
04/07/2023
Summer internship kick-off!
Meet our first team: Kinga, Aleksandra, Mikołaj and Rostyslav.
This year is exceptional for us, due to the great interest. Over 20 interns will join our company during the summer.
It's a real challenge, but we're ready!
What distinguishes us is an individual approach. We're one of the few companies that assign each intern to an individual mentor, ensuring that they can fully benefit from the mentors' experience and knowledge. We believe an internship is not just a temporary relation with a company. It's the first and most significant step toward professional growth. Our mentors' are experienced professionals passionate about their work and sharing knowledge.
We will be hosting students from the West Pomeranian University of Technology, the Maritime University of Szczecin, and several technical schools.
A warm welcome to our interns. We wish each of you to take full advantage of this valuable opportunity to gain practical skills and development possibilities.