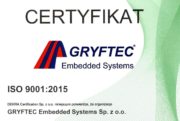 ISO 9001:2015 Certificate
25/09/2018
The GRYFTEC company has received the ISO 9001:2015 Quality Management Certificate.
After nearly a year of preparation, the auditors of the accredited DEKRA certification unit positively assessed the company's preparation and implementation of the management system by awarding our company an international Quality Management Certificate ISO 9001: 2015.
This is the result of many years of actions aimed at systematizing internal processes and consequences in caring for the offered standards. This is another important step for our company, recognition and at the same time, a stimulation for further work and continuous improvement of the quality of services provided. By complying with implemented processes, we provide our partners with unchanging efficiency and business stabilization.