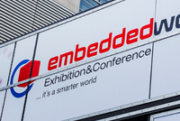 Report from Embedded World conference
30/03/2015
On 24-26.03.2015, for the first time in its history, GRYFTEC Embedded Systems company presented offered services at the Embedded World conference in Nuremberg.
The company was visible among other exhibitors because of having our own booth, which enabled us to gather new contacts with companies from all over the world. Additionally, the stay in Nuremberg made us possible to get to know the latest solutions in tools, which we could use in our venture.
Thanks to the participation, we are better recognizable in the embedded industry in Poland and Europe. That allows us to, strengthen our position in the market.