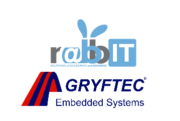 Meet us. R@bbIT 2019
28/03/2019
We'd like to invite you to visit us at the 6th edition of r@bbIT conference, which will take place next Wednesday, April 3th 2019 at the Faculty of Computer Science of the West Pomeranian University.
The conference will include Job Fair, probably the largest event this type in the IT industry in Szczecin. It's the best opportunity to meet us in person, become acquainted with the latest tech news. Besides, we can talk about the requirements for candidates, for offered job positions.
Come – See – Plan your career with us.