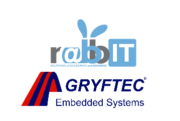 Meet us – r@bbIT 2022
27/04/2022
After a two-year break, we invite you to participate in the seventh edition of the r@bbIT conference, which will take place on June 8, 2022 at the Faculty of Computer Science of the West Pomeranian University of Technology.
The event will include the IT Job Fair, interesting presentations and meetings with specialists, and technology demonstrations.
This is a perfect opportunity to meet us in person, get to know our company better, talk with the requirements for candidates, and leave your CV.
It will be an inspiring day – full of talks, ideas for cooperation, career development prospects and technological innovations.