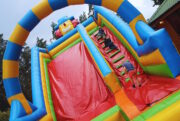 Last Friday, we met at Szczecińska Gubałówka for another family picnic. This is the perfect opportunity for us to spend time with our coworkers outside the office and personally meet their close ones.
Changing weather conditions didn't spoil our plans or stop us from having a great time. Many attractions prepared for the youngest attendees lasted until late evening. Even the adults couldn't resist enjoying the bouncy castle and face painting.
We want to thank all the participants for coming and for the shared fun.