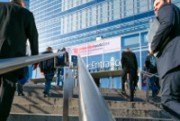 Embedded World 2015 – Nurmberg
26/10/2014
We are pleased to announce that the company GRYFTEC will participate in the Embedded World 2015 fair to be held in the period 24-26.02.2015 in Nuremberg.
Fair in Nuremberg is the place to reflect trends in embedded systems. This is an excellent opportunity to present their capabilities in this area, as well as the opportunity to acquire new, contacts in the industry.
About 900 exhibitors present all aspects of embedded technologies, of structural components, assemblies and complete systems to operating systems and software, hard and tools to services covering all aspects of embedded systems.
We also hope to gain information about new products, services and technological innovation.