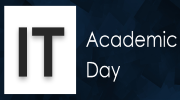 IT Academic day
04/12/2018
We'd like to invite you to take part at the next series of IT conferences IT Academic day, organized by students from the . NET and IT group.
Once again our company will present its offer regarding employment as well as student internships. It is the great opportunity to meet us in person and talk what the work in our company looks like.
We'd like to invite all IT enthusiastics and people looking for information about our services and cooperation conditions.
Meet us next Tuesday 11.12.2018 at WPU Żołnierska 52.
You can find the agenda and details of the event on the website below:
http://www.itad.zut.edu.pl/