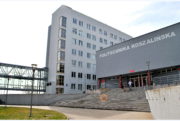 Koszalin University of Technology – cooperation agreement
16/04/2018
On April 1, 2018 a contract/ agreement of cooperation was signed between Koszalin University of Technology and Gryftec Embedded Systems company.
From the Koszalin University site the contract was signed by Dean of the Faculty of Electronics and Computer Science prof. nadzw.dr.hab inż. Grzegorz Bocewicz and from company site the owner Jerzy Pieścikowski.
The cooperation between our company and Koszalin University of Technology has been going on for a several years  but now it has become more formal dimension. Thanks to this cooperation we hope to stimulate student's professional improvement activities, exchange experiences in the area of strengthening practical elements of education.
We also care on increasing cooperation in students practices area and exchanging information about needs and a quality of accomplished practice.

This is a next agreement signed with technical university in the past few months. As a company we're opened to new forms of cooperation resulting from future circumstances.